Spirescape
Competition Project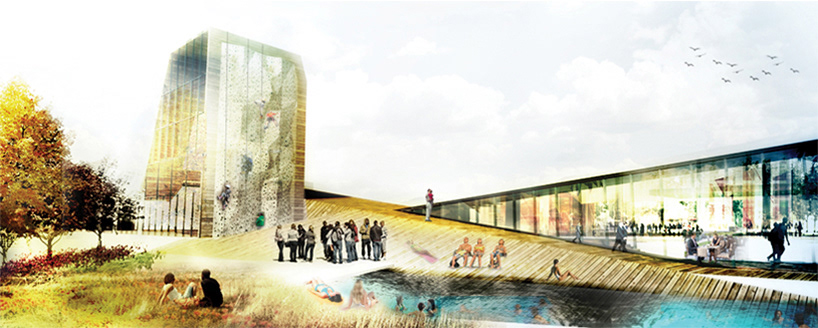 Spirescape is a competition entry, designed to provide a milieu of opportunities for the active, energetic and enthusiastic community around Walltopia Ltd., the world's leading manufacturer of climbing walls and holds. Drawing on the most favorable properties of the site; the beautiful view of the Vitosha Mountain and the park area already zoned for an urban park, this new Collider Activity Center aims to attract people with fascinating environments for sports, recreation, leisure and work.
Spaces presented to the inhabitants of the Spirescape is as follows:
•
Climbing hall and towers:
 With a naturally lit interior and a visually impressive exterior, the hall incorporates two towers with high climbing walls. This facilitates a space that changes character and evolves in the vertical direction for the climber inside, while providing visual access to the active space from the outside.Together with the tower of the greenhouse, the towers acting as spectacles inspired the name Spirescape for the Collider Activity Center.
•
Greenhouse:
 Bringing the park inside the building, greeting the visitor at the reception area and surrounding the cafe with nature, the greenhouse provides physical and visual connection to the green throughout one's experience in the building.
•
Funtopia:
 Designed with both the kids and the adults convenience in mind, kids climbing area regulates the circulation with a viewing balcony, a slide and visual access to the cafe as well as the party room.
•
Roofscape:
 As a continuation of the path leading to the park, the roofscape makes the building a part of the green landscape as well as opening up its bar and lounge with spectacular views to everyone. The hard route of the running track passes through the roofscape, presenting the runner a training overlooking the whole site and the mountain.
•
Beach:
 Where the roofscape meets the park, the building blends into a beach that offers a cheerful recreational environment. While the Deep Water Solo Competitions and the swimmers with the Vitosha Mountain and park view in the background provide a beautiful scenery for the diners at the restaurant, the outdoor climbing wall and volleyball court extend the beach towards the park and the building.
•
Park:
 With islands of boulders, ropetopia and children's playground, the park immerses the climbers into the green as well as accommodating the complete easy route and part of the hard route of the running track. It also functions as a buffer for the main road, neighboring residential areas and commercial areas intended for future development.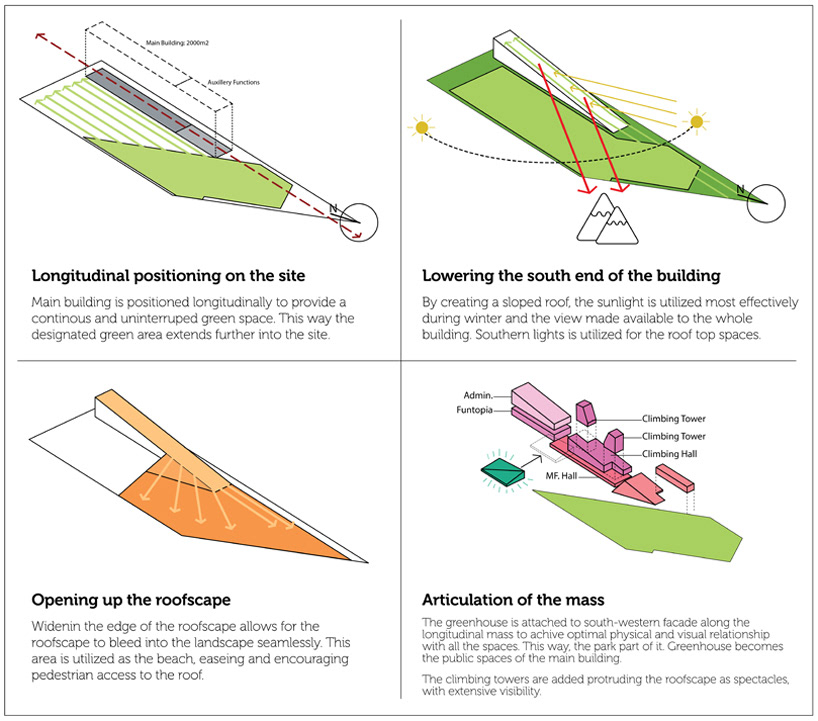 Main objectives designing the Spirescape were:
• Extending the park towards north east and providing uninterrupted access between the park and the building.
• Creating a continuous, accessible and attractive roofscape well integrated with the site and the main activity spaces of the building.
• Using the natural light most effectively and making the Vitosha mountain and park view available to the whole building.
• Accentuating the activity of climbing and rendering it visible from a wide range.